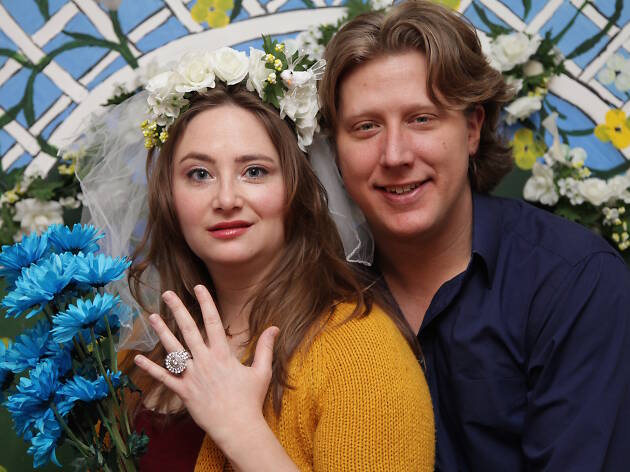 Written by David Carl and Katie Hartman
Directed by Michole Biancosino
You are cordially invited to the second wedding of David and Katie (without their family or friends, who no longer believe in their love) to celebrate their love. This confidently codependent couple will teach you how to love correctly through original music, exotic rituals, and a unity volcano. This time it'll stick! For realz tho!
A dark and very engaging musical comedy about the worst couple in the world on the second happiest day of their lives after the first happiest day of their lives didn't work out.  David Carl and Katie Hartman shine in this real-time sweet and sour wedding betwixt a star-crossed couple who has broken up and reunited more frequently than Spider-Man has been rebooted.
More about David Carl
DAVID CARL is an actor, impressionist, improviser, solo performer, voiceover actor, and writer living in NYC, originally from Dallas, TX. As a solo performer and writer, David has created 100 Impressions in 30 Minutes, David Carl's Celebrity One-Man Hamlet, and Trump Lear. Carl's "Busey" Hamlet (co-created and directed by Michole Biancosino) was a breakout hit of the 2014 New York International Fringe Festival, receiving an extended run at Baruch College and an award for "Overall Excellence in Solo Performance". From there the show travelled to Florida, Colorado, Alabama, Texas, Edinburgh Fringe (5 star reviews), and Chicago Shakespeare Theater. Created in the Spring of 2017, Trump Lear is currently running in NYC at Under St. Marks as at Time Out Critic's Pick. and has been to Colorado and Texas. In the summer of 2018 the show traveled to Edinburgh Fringe where it had a SOLD OUT RUN. Prior to the election, David spent 2015/2016 playing all of the presidential candidates in the debates before they happened in Road to the White House. In October he played Donald Trump in Trump Takes On…Boston at Laugh Boston for 22 shows leading up to the election. Other original works include The Power of Me (co-written with Samuel Brett Williams), and David and Katie Get Re-Married (co-written with Katie Hartman). In addition to his own work, you might have seen him in the Awesome 80s Prom, Mr. Robot, Divorce, Blue Bloods, Kingfish, Guiding Light, or All My Children. He has also been doing improv in NYC for over 10 years, and currently plays on the Maude Team Presley (house sketch comedy team) at Upright Citizens Brigade Theatre Hell's Kitchen. He has a BFA from the University of Evansville in Performance, an MFA from Rutgers (Mason Gross) in Acting and completed improv training at UCB, the Magnet and The PIT.
More about Katie Hartman
Katie Hartman is an actor AND comedian LIVING in New York city. She was selected to perform at Just For Laughs in Montreal as one of the New Faces of Comedy: Characters of 2018. She was a staff writer and performer on the WGA nominated Paid Off with Michael Torpey on truTV. You can see her in the Adam Sandler/Robert Smigel Netflix movie The Week Of. Katie wrote and performed for Seriously.tv, Hearst Media's social justice comedy network. Her sketch duo, Skinny Bitch Jesus Meeting, has been a critic's picks in Time Out New York, Washington Post, and Charleston City Paper. Festivals include: New York Sketchfest, Charleston Comedy Festival, East to Edinburgh at 59E59, Edinburgh Fringe, Capital Fringe, FringeNYC, FRIGID New York, Out of Bounds and in 2015 they headlined Austin Sketchfest. Their web series "Made To Order" was listed as one of "6 Brilliant Web Series" by Marie Claire.
More about Michole Biancosino
Michole Biancosino is an outside-the-box theatre director, writer, producer and performer working in New York City, Vermont, and internationally. Michole specializes in creating and directing new plays in many forms. She enjoys the process of developing a script with the playwright. She is a prolific writer and co-creator of several shows that have gone on to play internationally and tour nationally. She also creates theme-based works in the form of devised docu-theatre with large groups of people. She is a co-founding Artistic Director of Project Y Theatre Company, where she recently directed the critically acclaimed World Premiere "Trump Lear," co-created by David Carl and Michole Biancosino, and running for over a year at the iconic Under St. Marks Theatre in NYC before embarking on a completely SOLD OUT run at The Pleasance as part of the Edinburgh Fringe. She has directed the World and NY Premieres of several plays including "CONNECTED," by Lia Romeo, at 59E59 Theaters, nominated for 4 NYIT Awards including Outstanding Full Length Script, Outstanding Ensemble, and Outstanding Overall Production, winner of 1 NYIT Award for Supporting Actress, Midori Francis.
---
Single Ticket ~ $25
Thursday Ticket  ~ $18
$110    FLEX Pass
Ten punches to use in any configuration for any series show – SAVE 16%
SAVE with FLEX PASS!
If you want to see a little bit of everything  or  your schedule is just too crazy for you to commit to a season subscription, we recommend the Flex pass. It let's you pick and choose the shows you see and can be used for any show in the season.  The pass is valid for one year and can save you as much as 30% off the single ticket price.
$110    FLEX Pass 
10 punches to use in any configuration for any series show
Valid for one full year from date of purchase
Unlimited exchanges (must call 2 hours prior to show time)
Transferable to Friends & Family
1 punch = Kids First Ticket  or Rip Improv ticket

2 punches = Premiere ticket
RESERVING TICKETS: Making reservations is so easy. All you need to do is:
Decide which fabulous MAT show you want to see.
Call the MAT box-office and identify yourself as a Flexer.
Tell us when you want to come and how many tickets you'd like us to hold.
Hang up the phone and get on with your day.
We keep track of your punches, so you never have to worry about misplacing your punch card. THAT's IT! Didn't we say it was easy!
CHANGING YOUR FLEX RESERVATION: 
Flexers may call and change their reservation without any penalty up to two hours before the start of the show.
STUDENT TICKETS
We like to make attending the theatre fun AND affordable!. High-school and college students with a valid student id may reserve tickets for Millibo shows at a reduced student rate.  Please bring your id with you to the box office.
Student Discount Tickets: $18
SHOW TIMES & DETAILS
Thursdays @ 7:30 – Tickets $18
Fridays , Saturdays @ 7:30 – Tickets $25
Sundays @ 2pm – Tickets $25
All seats are reserved.
The lobby is open 90 minutes prior to the start of the show and seating will begin thirty minutes prior to showtime.
Refreshments are available for purchase before the show and during intermission.  Our lobby selection is delicious and includes cookies, cakes, brownies and ice cream as well as coffee, tea, sodas, wine and beer. Food and drink are permitted in the theatre!
REFUNDS & EXCHANGES
REFUNDS:
All Ticket sales are final and there are no refunds on ticket purchases, however we do realize life can be un-predictable and are happy to exchange your ticket purchase for another performance of the same show  IF you give us a call two hours before the start of your show.   All Premiere exchanges All Ticket sales are final and there are no refunds on ticket purchases, however we do realize life can be un-predictable and are happy to exchange your ticket purchase for another performance of the same show IF you give us a call two hours before the start of your show.
All Premiere exchanges are subject to a $3 exchange fee (waived for Subscribers and Flexers)
To exchange your tickets please call  the MAT Box Office at 719 465 6321 or visit us in person during our box office hours.
Exchanges into a more expensive performance require payment of the upgrade amount at the time of the exchange. Refunds are not given for exchanges into less expensive performances.
GIFT CERTIFICATES
GIFT CERTIFICATES
There's never a bad time to give friends or family the gift of theatre.  Gift certificates are redeemable for all things MAT, including tickets to productions, classes, or subscriptions and packages. They are available in any denomination. Just give the MAT box office a call at 719 465-6321 We'll send you a gift certificate to give and/or redeem once you've made your purchase.
GROUP RATES
GROUP RATES:
Whether you're creating an unforgettable occasion for family and friends, entertaining clients, or planning the perfect company outing, the Millibo Art Theatre has the sales package that's right for your needs.
BOOKING A GROUP IS EASY!
1. Gather a group of at least ten people. The larger your group, the larger the discount!
2. Select the performance you would like to attend.
3. Secure your group reservation with a cash, check or credit card payment.
4. Pick up your tickets at the MAT box office.
PREMIERE GROUP RATES
Groups 15 – 24  ~ $20 per ticket
Groups of 25 and up – $18.50 per ticket
ADDING TO YOUR GROUP RESERVATION: You may add to your group reservation up to 24 hours prior to your scheduled performance.  Dependent on availability.
RECEPTIONS: Want to have a pre- or post-show reception with your group? Chat with our staff about the options. We have a full liquor license & lobby bar and some incredibly delectable desserts!
PROMOTING YOUR EVENT: MAT can help you promote your group event by providing promotional graphics and e-fliers. Just let us know what you might need.
REFUNDS & EXCHANGES: No cancellations, refunds, or exchanges. The discounted group rate is not valid on previously purchased tickets or in conjunction with other discounts.
SEATING OPTIONS
The MAT seats 109 patrons in a proscenium theatre with stadium style seating.  Every seat at the MAT has excellent sight lines and acoustics.
All seating is assigned. If you have any special seating needs, or would like to request a specific seat, please call the MAT Box Office at 719 465-6321. We will do our best to accommodate your requests.
Wheelchair seats are A1 & A15.
PARKING
All parking for the Millibo Art Theatre and the Ivywild School is shared.  Parking is available in the lot  immediately adjacent to the theatre, in front or behind the Ivywild school and on the street.  In addition, the MAT blocks off 30 spaces in the lot before the show for theatre patrons, when you arrive you may see an orange bucket reserving a parking space.  Just notify the attendant you are a ticket holder and they will open that space for you or just move the bucket toward the front of the space.